Blog // The Grand Economic Circle of Indigenous People and Quebec: What we learned
The Grand Economic Circle of Indigenous People and Quebec: What we learned
January 20 2022
---
Category name:
C2 Editorial Team
Presented by the First Nations of Quebec and Labrador Economic Development Commission (FNQLEDC)
The Grand Economic Circle of Indigenous People and Quebec, held in Montreal November 25-26, 2021, was an exceptional meeting of leading economic and political players working towards accelerating Indigenous economic development and advancing reconciliation. As a proud partner of the event, C2 was able to attend a series of compelling talks and conversations.
In addition to creating space for authentic and engaging discussion, the event's broad spectrum of programming enabled participants to tackle a wide range of critical questions surrounding the future of the Indigenous economy. Talks, roundtables, workshops and networking sessions led to discussions, reflections and learnings.
The following are the highlights and takeaways from this historic event.
Land on top
Throughout the Grand Economic Circle of Indigenous People and Quebec, land was on everyone's lips. For a significant proportion of the event's Indigenous economic and political leaders, reconciliation and economic development are only possible if the land is respected, preserved, and sustainably managed. "In the future, First Peoples must be treated as partners with a deep connection to their land," said Kahsennenhawe Sky-Deer, Grand Chief of the Mohawk Council of Kahnawà:ke. "If you want to partner with us in business, you'll have to respect the environment too."
Exemplary economic allyship
The attendance of Peter Simons, CEO of La Maison Simons fashion retail chain, was a high point of the event. Simons drew attention earlier this fall with his decision to close all Simons locations on September 30, the National Day for Truth and Reconciliation in Canada. La Maison Simons was one of the few Quebec companies to highlight the day by temporarily closing up shop, a decision that Indigenous peoples welcomed as a demonstration of respect and receptiveness.
In conversation with Ghislain Picard, the Regional Chief of the Assembly of First Nations, Simons said he was deeply touched by the tragedy of the country's residential schools and committed to doing his part in advancing reconciliation and Indigenous economic development. 
"Now more than ever, we need the strength of First Nations peoples," Simons declared. The CEO's respect- and friendship-based relationship with Indigenous peoples is an excellent example for non-Indigenous people to follow if they too wish to work towards reconciliation.  
Progress on gender equality for Indigenous women
During "The Panel of Chiefs," Monik Kistabish, Chief of the Abitibiwinni First Nation, highlighted the progress that has been made in her community when it comes to gender equality, citing their 80% female council. She also recognized the vital need to appoint even more women to decision-making positions.
"As Indigenous leaders, it's our responsibility to facilitate women's access to key positions," she explained. "Women have a different approach, a different way of responding. I'm not saying that it's better, but it's a different way to work."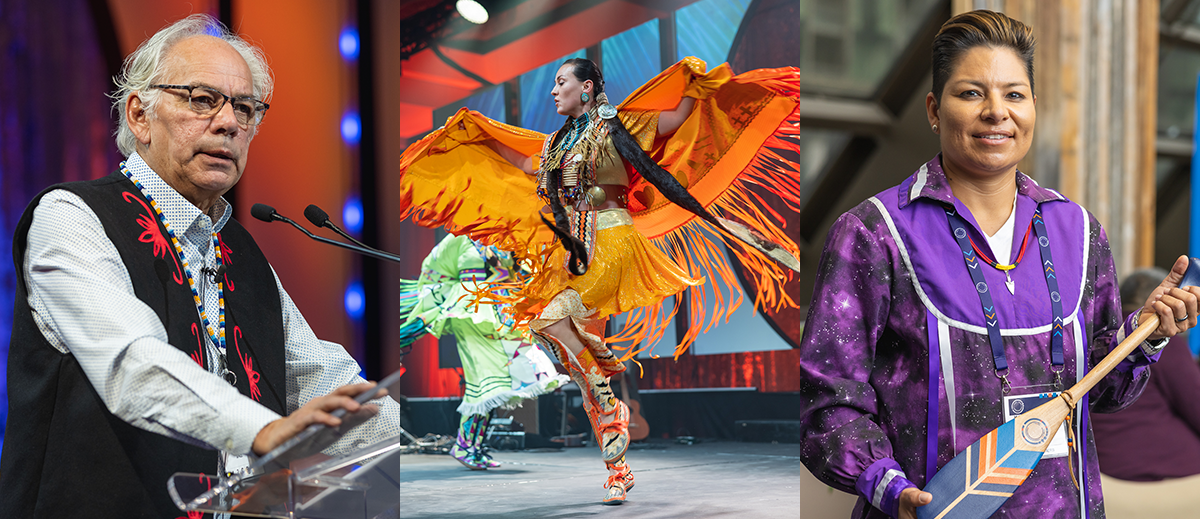 Bespoke business education
Several important announcements were made at the Grand Circle. Among them was the creation of the First Nations Executive Education (FNEE) school in partnership with the esteemed HEC Montréal business school, an official announcement that received a warm reception by those in attendance.
FNEE provides training that is based on traditional knowledge and the principles of modern management. Already, it has hired 24 instructors, half of whom come from HEC Montréal, with the other half hailing from First Nations. Through this partnership, FNEE will fill critical educational gaps for Indigenous entrepreneurs and leaders, which currently act as a major impediment to First Nations economic growth.
A powerful symbol of identity
Yet another noteworthy announcement: the First Nations logo of authenticity that will soon grace Indigenous products and services.
The colourful image of a bear designed by Algonquin artist Frank Polson will aid in the fight against cultural appropriation by clearly identifying Indigenous products, services and businesses. Moreover, the logo will serve as a vehicle to raise awareness among non-Indigenous consumers, opening up an avenue for them to discover a wider variety of First Nations companies. It's also an invitation to take more deliberate action towards supporting the Indigenous economy.  
A solemn commitment
After two days of exchanging ideas, the event closed with the adoption of the Grand Circle of Commitment Declaration for Indigenous and non-Indigenous peoples to sign. The declaration proposes 10 commitments that must be adhered to in order to facilitate the full participation of Indigenous people in Quebec's social and economic spheres.  
Mickel Robertson, Director General of the First Nations of Quebec and Labrador Economic Development Commission, deemed the event to be a huge success.
"We had two wonderful days with highly committed participants," said Robertson. "It was important that the people attending were able to be active participants in the talks and that's exactly what happened." He also appreciated the involvement of the many business leaders who signed the declaration. "Now, people are going to have to strike while the iron is hot and get to work with these folks."
Robertson does acknowledge, however, that there is still a long road ahead.
"We wanted to launch a movement of economic reconciliation that would lead to the full participation of First Nations peoples in Quebec's economy, so for us we're really just getting started." 
Laying the foundation of economic reconciliation
Questions or comments? Drop us a line at editorial@c2.biz