Blog // How the World Congress on Safety and Health at Work advanced worker protection during a pandemic
How the World Congress on Safety and Health at Work advanced worker protection during a pandemic
December 15 2021
---
Category name:
C2 Editorial Team
Established in 1955 by the International Labour Organization (ILO) and the International Social Security Association, the World Congress on Safety and Health at Work is a global forum to advance worker health protection. Every three years, the World Congress brings thousands of delegates from around the world together in a different host country.
For the 2021 edition, the C2 International team was tasked with creating an engaging digital experience that would honour the importance of a highly anticipated triannual event and meet the expectations of government officials, labour and business leaders, trade unions and more.
A critical time for a high-stakes global event
The XXII World Congress was originally scheduled to take place in 2020 in Toronto, Canada until the global pandemic postponed the entire event until 2021. While COVID-19 impacted all gatherings and events, it played a very particular role in the reimagining of the World Congress: work and safety had emerged as a critical global issue, and cross-border dialogue that was to happen at the Congress would help save lives. At the very moment when the occupational safety and health (OSH) community needed to come together to grapple with a quickly evolving pandemic, they found themselves incapable of convening as they had in the past.
With the program and preparations for the 2020 date well underway, the XXII World Congress team felt like they were building a plane while already in flight.
"Having a completely virtual, global team of very engaged stakeholders with high expectations meant we had to work quickly, and with a high level of creativity, organization and professionalism."
— Louise Logan, National Director at the XXII World Congress on Safety and Health at Work
Shifting from an in-person format to an online congress
In the spirit of reaching across physical distances to convene and connect a passionate community, the theme of the XXII World Congress was "Prevention in the connected age." This theme was rife with possibilities to create something new and exciting by thoughtfully leveraging digital tools.
"We knew that with the right program and format, representatives from countries around the world could gain knowledge and insights at a critical time. We were very keen to showcase Canada's creativity and innovation to the world through a brand new, engaging experience."— Louise Logan
Onboarding delegates to a digital World Congress
An engaging digital experience starts well before the go-live date of an event, especially when you're inviting a large number of participants who are accustomed to a high-quality in-person format. From tips offered by thought leaders in our speaker spotlight video series to a detailed user guide and helpful emails along the way, the pre-event materials that C2 International produced helped the audience optimize their digital experience while simultaneously ramping up anticipation for the World Congress.
Reimagining a complex program
Rethinking the World Congress's rich programming for digital presentation meant balancing engagement with the challenging reality that the program needed to be easily accessible across multiple time zones. Most sessions were pre-recorded, yet the flow of these online sessions was designed to create moments of engagement between the speakers and the organizers. To engage with the audience asynchronously, we leveraged the event platform's chat and "clap" features and coached a team of chat leaders to encourage and moderate engagement during live, pre-recorded and re-broadcast sessions.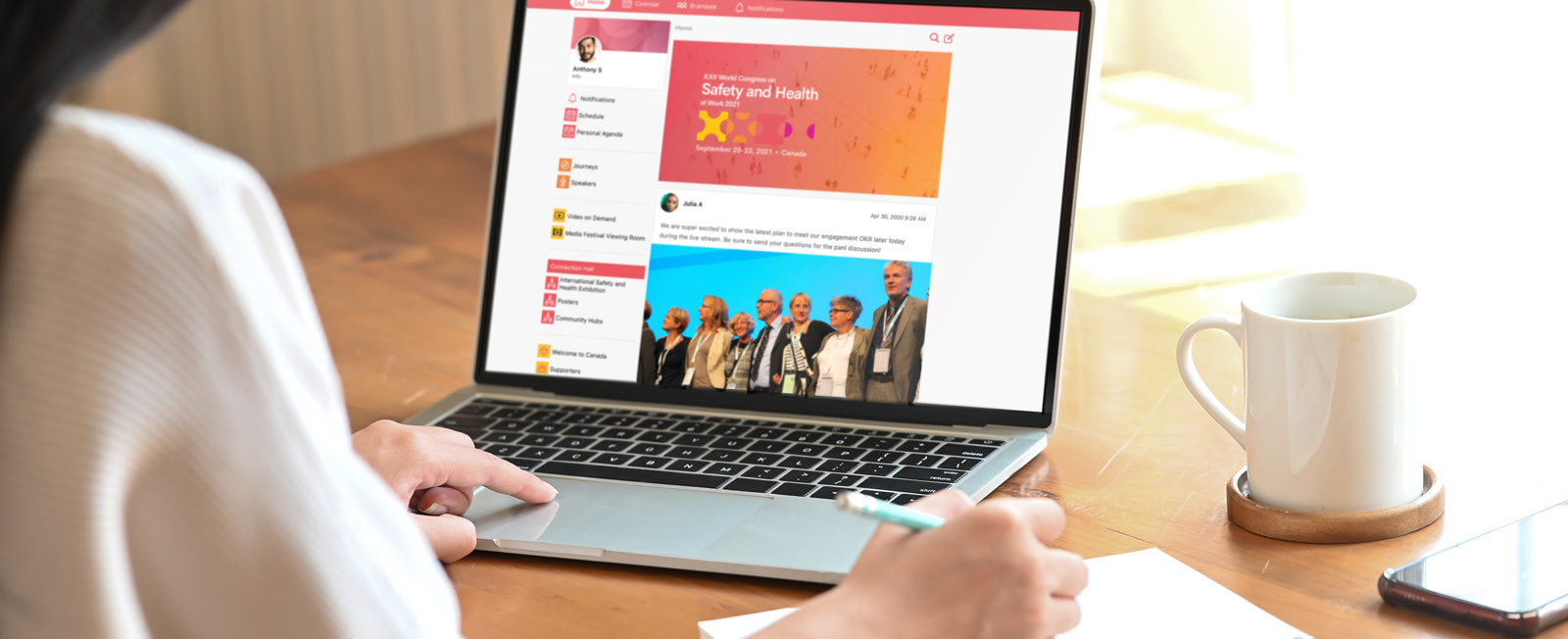 Creating a fully digital exhibit
Each edition of the World Congress has an exhibition where hundreds of poster presenters share new technologies and research in health and safety at work. To recreate this critical component of the event, the team at C2 International provided the World Congress with an online environment that would allow participants to view posters and interact with their presenters.
An incredibly engaging global event
With close to 2,000 unique platform accounts created, 242,954 live interactions, 1,066 exchanged business cards, and over 10,000 questions asked through Q&As, the high level of engagement at the very first fully digital World Congress was a true testament to this global community's passion.
"C2 International was a valued creative partner as the XXII World Congress on Safety and Health at Work moved online as a result of COVID-19. Working together with our team and partners, C2 helped deliver a magical virtual global event." — Cameron Mustard, President, Institute for Work & Health, and President of the XXII World Congress on Safety and Health at Work
Connect your global community
Bringing together a large number of people from around the world can be a challenging task. C2 International's event professionals create highly engaging digital and hybrid experiences for your community with imaginative programming and participant-driven immersive environments.
Want to share your thoughts ? editorial@c2.biz.